Welcome. Today's date is


Best viewed at 1024x768 with NETSCAPE 4.x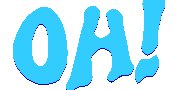 ================================================
Correct date and time in Toronto, Ontario CANADA - Home of H to Oh!
NEWS BRIEF:
The CD 'CANADIANA' is in final stages of mix down. This is H to Oh's first full-length studio album.
Watch for details on how to obtain a copy!

* * * * > Link to tentative track list of H to Oh! - 'CANADIANA'

* * * * > Link to H to Oh! selected music tracks at Mp3.com...
Click above to hear ruff edits of tunes for the upcoming CD 'CANADIANA'

* * * * > Link to H to Oh! 2002 Events...

We are very saddened at the recent loss of guitarist Godfrey Martyres. His passing on November 9th has shocked us all. A memeorial will be added to this site as soon as the information has been gathered.


----------------------------- Year 2003 EVENTS -----------------------------


Thursday February 6th, 2003 - Benny & Godfrey performed at 'Carnaval'
at Humbercrest - St. Marks Rd. Toronto, Ont. - (416) 394-2370. A great evening!

Saturday February 8th, 2003 - The Lazy Lizard - 22 Balliol (Yonge & Davisville)
Toronto, Ontario. CALL (416) 932-8194 and join us for our next evening there.

Saturday February 15th, 2003 - 'H to Oh!' was booked for a private party.

March thru May - H to Oh! on hiatus due to personal commitments and final CD touches. Godfrey and Benny performed numerous gigs as 50% of 'Lee Van Leer & The Nouns'

Friday June 20th & Sunday June 22nd, 2003 - 'H to Oh!' played at the Parkdale Culture Mosaic Festival. Friday night featured the 'Opening Ceremonies' and the three piece band played a wide variety of styles. A smaller but enthusiastic crowd attended on Sunday, as H to Oh! closed the event.

WEDNESDAY JULY 16th, 2003, "H to Oh!" played at 'Hollywood on the Queenway'
The event was shot for a future television broadcast on the Life Network.
Watch for them on an upcoming episode of 'Say Yes and Marry', Sundays at 7:30.
Here are links to related sites - > **>Link to the Hollywood info*, *Link to the new song* + *Link to the song list<**
and for pictures of the evening, click here ===> *Hollywood July 16th photos* <=== click here,


------------------- UP COMING EVENTS -----------------------

Upcoming : The Millenium - Dundas St. West - Fall 2003

'H to Oh!' will begin regular gigging again soon after a lengthy break. The CD is due soon!


2003 - A return to the 'new' WAVES Sports Bar? - 2749 Lakeshore Blvd. West
- Etobicoke Ontario - Watch for it!
~~~~~~~~~~~~~~~~~~~~~~~~~~~~~~~~~~~~~~~~~~~~~~~~~~~~~~~~

Other 'in the works' include 'JRs' on the Lakeshore, Badger's Rest in Aurora,
return to Hollywood on the Queensway, PK Creek in Mississauga, Lee's Palace,
some Brampton appearances and a return to The Gate.
We'll post details here.

------------------------------------------------------------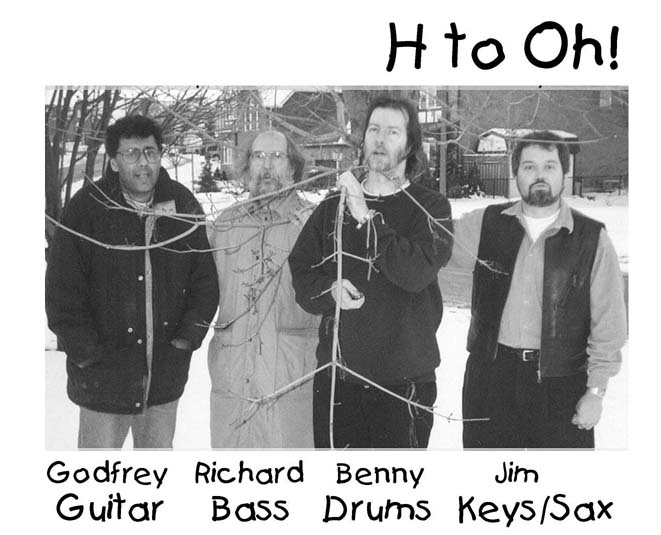 GROWING LINKS TO BAND INFO
H to Oh! Main Web Site
...is growing daily
visitors since September 2000


(click arrows to see a few band photos)


============================================================ LINKS to information about "Lee Van Leer & the Nouns":
Lee Van Leer & the Nouns

L.V.L. & the Nouns - GTA Appearances

Lee Van Leer at MP3.com

============================================================
LINKS to information about vocalist "Bridget Taylor":
Bridget Taylor

============================================================
Previous Year's Events :



H to Oh! appeared at the "CANADIAN MUSICIANS FOR LIBERTY"
fund-raiser on Saturday October 27th, 2001 - 9AM-10AM.



The event supported the Canadian Red Cross USA Relief Fund.
They performed LIVE at 1900 Lakeshore Rd. in Mississauga Ontario (905)-403-9941 and


via the Internet at http://www.cmfl-td.com (a Guinness World Book Record Event)

along with other bands ranging from Ronnie Hawkins, Red Ryder, and Goddo, to Jeff Healey, Alan Frew and The Open Mike [Bullard] Band.




December 22nd, 2000 - 7th Annual Beaches Christmas Blues Festival <-(photos temp. offline) (416)-698-9780
The Church at Berkley - 315 Queen St. East, Toronto Ontario
Thank you for supporting the Hepatitis-C Society . . . . also featured :
Paul James, Ottawa's Sandmouth plus Toronto blues veteran, Micheal Hasek

H to Oh! appeared on CITY-TV's 'Breakfast Television'
Wednesday, November 22nd, 2000 7 to 9 AM.
Thanks to Brad and all the members of the 'BT' bunch!

H to Oh! reformed in November 1999, played four evenings at the Toronto Skydome's Hard Rock Café and reached the finals of the IT Management competition held there.








BOOKINGS : Call ALAN HEART MANAGEMENT(416)566-4521 - pager (416)336-3457
or
Send email to: h_to_oh@musician.org



Page designed and maintained by Benny Sanders
Contact : bennysanders@techie.com

reload this page




>
Counter courtesy of digits.com